Veeva CRM Engage Meeting
Improve your reach with real-time, online HCP engagement.
As office access to healthcare professionals (HCPs) grows more restricted, life sciences is looking to expand digital engagement, without losing the personalization of face-to-face meetings. User-guided online meetings marry the two, offering the flexibility of online access and the relationship-building of a face-to-face engagement. Until now, reps have been limited by fragmented technology that makes it difficult to manage remote calls in CRM, and share multichannel content. Similarly, HCPs struggle to use different presentation technologies from each company, making digital interaction frustrating.
Veeva CRM Engage Meeting makes online meetings with healthcare providers easy and compliant. Embedded in CRM as part of a rep's workflow, Engage Meeting allows easy reuse of approved CLM content. And because Engage Meeting is delivered through Veeva CRM, it enables – for the first time – a common industry platform for online meetings. Leveraging a single solution to communicate with life sciences greatly simplifies accessibility for HCPs, improving their experience and opening new avenues for digital interaction.
BENEFITS
Improve customer engagement: Deliver the information your customers need with convenient and compliant online content sharing and collaboration.
Increase productivity and reach: Ensure greater coverage, frequency, and reach with the same resources.
Enable content reuse and compliance: Stay on message, with compliance, ensuring your teams use only approved or existing CLM content.
Learn More
Watch Demo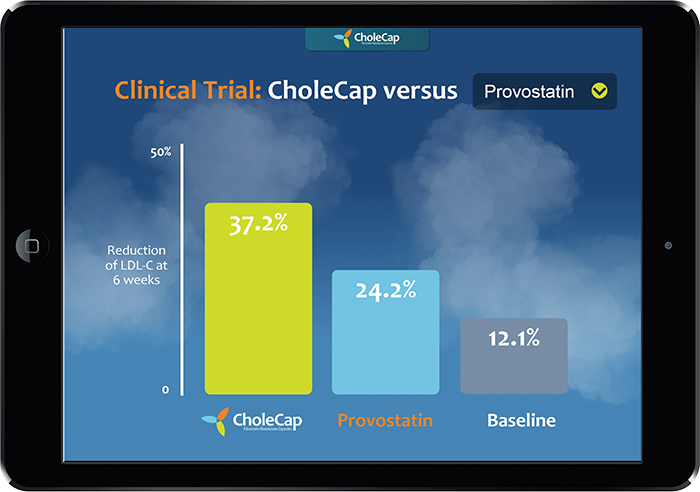 Engage Meeting
At-a-Glance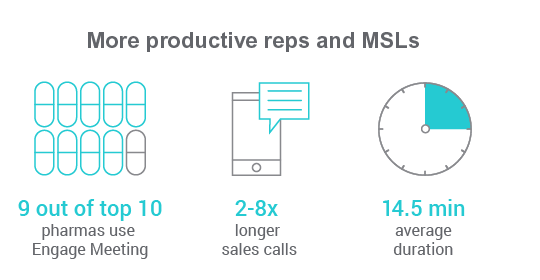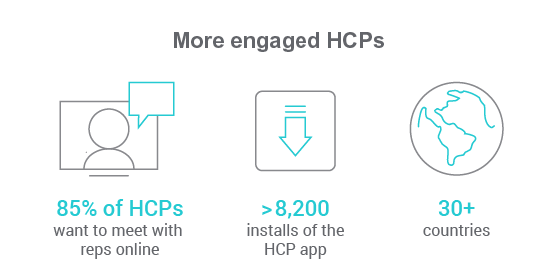 Source: Data generated from early adopter program.
See how it works in 3 minutes
Features
INTEGRATED VOICE AND VIDEO
Engage Meeting delivers built-in voice and video capabilities in a single solution, with flexibility to turn video on or off as needed.
LEVERAGES EXISTING CLM CONFIGURATION WITH ACTIVITY TRACKING
Approved Veeva CLM content is available at reps' fingertips, with all actions automatically tracked and recorded back to CRM.
REAL-TIME ONLINE ENGAGEMENT
With Engage Meeting, home office and field staff can schedule real-time engagements with customers directly from Veeva CRM, guiding HCPs to the information they need. Sales reps can present CLM content directly from the iPad and Windows tablet devices, eliminating the need for workarounds or extra integrations. HCPs can join from any device
INTUITIVE UI
Veeva CRM Engage Meeting is easy to use, minimizing the need for training and increasing adoption by both reps and doctors. To join an Engage Meeting, HCPs simply click a link delivered via Veeva CRM Approved Email.
ENSURES COMPLIANCE
Veeva CRM Engage Meeting is built to meet the strict regulatory requirements of the life sciences industry. Field reps can share only the latest approved, compliant content during an Engage session, preventing the inadvertent display of unapproved materials.
COMPLETE CUSTOMER VIEW
Rich insight is automatically captured from each interaction, across all channels, and updated in Veeva CRM, in real time. Companies can easily gauge content effectiveness and track HCP sentiment. This multichannel data is available for analysis, helping marketing and sales respond to customer needs quickly and effectively.
2 Minute Demo: Introducing Veeva CRM Engage Meeting
The Evolution of Veeva CRM
Previous
Next