Medical Inquiry Management
Veeva Vault MedComms is the modern cloud application for collection, management, and response delivery of medical information.
Benefits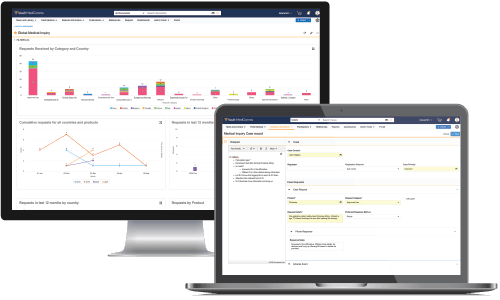 Complete
A single solution that supports the end-to-end medical inquiry process. It eliminates the need for multiple systems and integrations.
Connected
Unifies your scientific content and medical inquiries with Veeva Medical CRM, leveraging data to enable qualitative measures and strategic insights.
Modern
Cloud-based system grows and evolves with your business needs. It delivers access to the latest innovations through regular updates while also eliminating IT maintenance and burden.
Features
Centrally Manage Medical Inquiries
Quickly and efficiently administer medical information cases, contacts, and documentation from one central source.
Create Custom Medical Inquiry Tasks
Manage, and track complex medical inquiries by creating custom tasks and due dates. Review and investigate directly from Vault MedComms, and search for pre-written responses or create new ones. Get visibility into the full approval process with an integrated timeline for tracking and managing tasks.
Case Management
Intake inquiries from multiple channels, manage important case details, assign or escalate cases, manage case priorities and workload in line with SLAs or SOPs.
Response Package Generation
Inquiry fulfilment, including assembly and publishing of response packages, as well as managing response components.
Automated Cover Letter and Email Response Personalization
Leverage pre-configured cover letter and email templates for maximum efficiency and consistency.
Response Fulfilment
Email responses can be sent directly from Vault MedComms without the need for an external email client.
Capture Inquiries with Veeva Medical CRM
Create new case contacts directly in Vault MedComms or sync automatically with Veeva Medical CRM. Log and track important details, see standard metrics, and get rich insights for medical inquiries.
Unified with the Vault Platform
Capture adverse events or product quality complaints with other Vault applications, helping to create more efficient interdepartmental communication processes.
Leading Dermatology Provider
"At our team meetings, it's great to pull up a dashboard for an instant snapshot of what's happening across the medical information function. Vault MedComms is helping us to show the contribution of medical information at our organization."
Global Principal Medical Information Specialist
Vericel
"The team now manages and distributes medical information from a single solution. The connection between medical inquiry records and scientific information was the turning point for medical affairs. Medical inquiry records are now the backbone of our system."
Senior Director of Corporate Information Systems
Read more
Previous
Next
Medical Inquiry Management Demo
Resources for Veeva Medical Inquiry Management