Veeva CLM
Tailored sales calls with fast, accurate reporting.
Benefits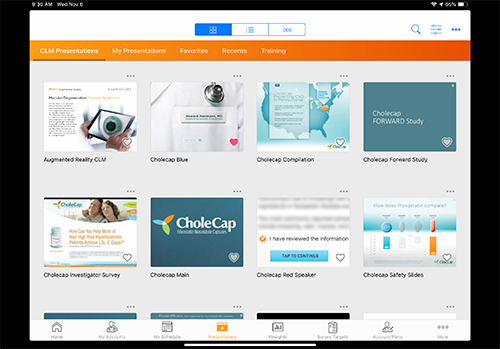 Target the Right HCPs
Access a complete customer history to create more relevant, tailored interactions.
Superior User Satisfaction
Automatically record calls with a single click as part of an easy to use, natural workflow.
Current and Compliant Messaging
Efficiently manage and distribute the latest content to the field.
Embedded in Veeva CRM
Leverages the complete customer view from Veeva CRM, enabling users to present and document using the latest content.
Automatically records sales calls, eliminating administrative burden and improving data quality
Provides actionable real-time insights into message utilization, sequence, and customer feedback
Manage and distribute content across offline and digital channels with complete multichannel repository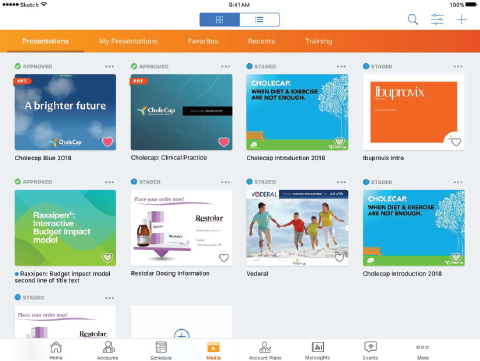 ---
Augmented Reality
Build immersive AR content that projects onto the customer's physical world for more memorable interactions.
Engage HCPs with a new detailing content channel for powerful brand building and differentiation
Help HCPs better understand disease states and treatment methodologies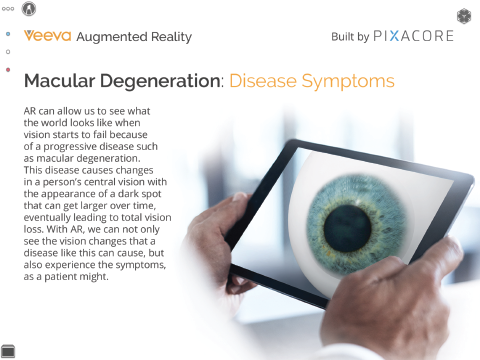 ---
Take Control of Your Content
Reps can easily manage their closed loop marketing content from directly within their natural CRM workflow.
Tag favorites, add keywords, and sort using multiple views that make content easy to find
Quickly switch between approved pieces of content
Tight integration with Veeva CRM Approved Email, Engage Meeting, and Engage Webinar for seamless digital interactions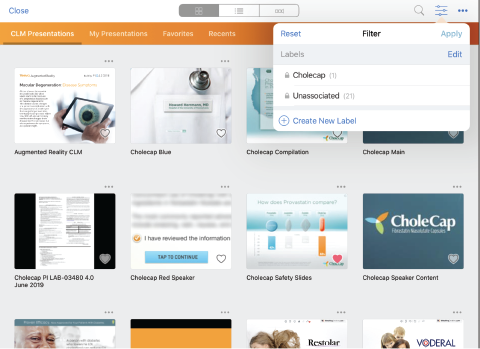 ---

"With Veeva CRM, we have rich insight about customer preferences and past interactions so we can deliver a more personalized experience with each future communication, whether that is through a sales call, marketing campaign, or digital detail."
Head of Commercial Excellence, Teva UK
Find out how
Lundbeck
"The Veeva CRM and CLM platform not only allows our medical representatives to improve their administrative effectiveness, it also provides strategic opportunities for improving targeting and segmentation, and thus provides the most relevant information to the right doctor."
National Sales Director, Lundbeck
Keryx
"Veeva CLM feeds insights from the field directly to marketing,
and vice versa, for harmonized, more successful selling."
Director of Commercial Operations, Keryx
Previous
Next
Veeva CLM Augmented Reality 3 Minute Demo