Veeva CRM Approved Email
Connect with hard-to-reach customers and extend your face-to-face conversations without compromising compliance.
Designed to support tailored interactions with your HCPs, Veeva CRM Approved Email lets you send compliant, approved content through email. And because it's built into the Veeva CRM application that your reps use every day, it's quick and easy to use. Just a few taps, and your reps can deliver personalized content without the regulatory risk of traditional email.
BENEFITS
Improve productivity: Increases the frequency and quality of your reach—even with low-see and no-see customers—without expanding your field force.
Engage anytime, anywhere: Delivers the information that your customers need and value, when and how they want it.
Get messages to more customers: Personalized emails see open rates more than 10 times higher than those of mass email.
Learn More
Watch Video



Approved Email At-a-Glance



Customer Success:
Customers who use Veeva CRM Approved Email have seen dramatic results.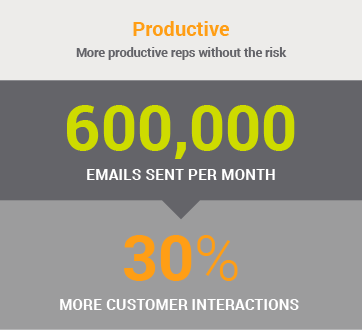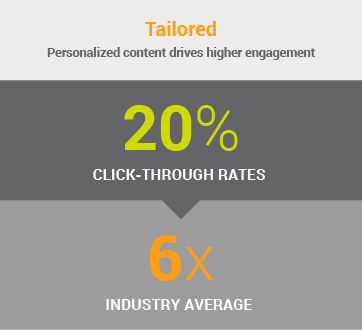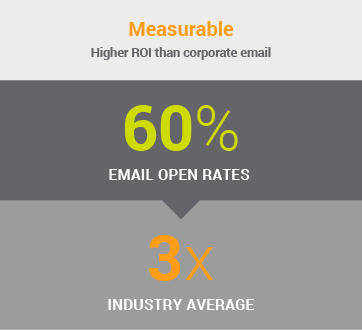 "With Approved Email, we've gained visibility into metrics on physicians interactions, allowing us to continuously enhance our content and achieve open and click rates above industry averages."
Lindsay Ledger | O&I Business Analyst, Bayer

Find Out How
"Using Veeva CRM Approved Email, our sales reps interact with customers more often to help create ongoing personal relationships. We have achieved open rates of 54% and average click-through rates of 50% with rep-triggered emails."
Antoine Blanc | Head of Commercial Excellence, Sanofi Pasteur MSD

"We've increased customer interaction by 30% with Veeva CRM Approved Email. Our field teams are perceived as trusted advisors, and the customer receives valuable information whenever and wherever they want."
Director of Global Commercial Solutions, Top Biopharma

Find Out How
"We are increasing the productivity and effectiveness of our sales teams with Approved Email. Additionally, it helps us to better engage hard-to-reach specialists."
Eckard Kather | Director of O&I KAM Pharmaceuticals, Bayer HealthCare

Find Out How
"... Our sales teams can hold an ongoing conversation with the customer in person and continue the interaction through email, in a compliant manner, while meeting customers' needs for information."
Matt Nestor | Director of Commercial Operations, Keryx

Find Out How
Previous
Next
Features
PRE-APPROVED TEMPLATES
Make it fast and easy to send one or more compliant emails to your customers. Send messages directly from Veeva CRM before, during, or after a call or from any point within a CLM presentation.
BUILT-IN COMPLIANCE
Capabilities include flexible consent management, optional signature capture, compliance checks to prevent off-label communications, always-current content and more.
METRICS THAT MATTER
Every email sent, opened, and clicked through is captured and stored automatically in Veeva CRM—resulting in a set of rich analytics and a reliable database of customer interactions across channels to close the loop.
View Product Brief
Contact Us
MULTIPLE CHANNELS, SINGLE SOURCE OF CONTENT
Includes a complete multichannel repository that manages content across all Veeva CRM channels, and other digital channels (optional), ensuring simplicity, visibility and control of your promotional assets.
ALWAYS CURRENT ASSETS
Updated materials are automatically pushed to the field or withdrawn with a single click, ensuring only the latest, approved content is available.
Resources

White Paper
Guide to Digital HCP Engagement

Innovation Guides
Veeva CRM Approved Email
Introducing Veeva CRM Approved Email for Compliant and Up-to-date Emails