Veeva OpenData Email
Expand Your
Reach with Email
Engage with healthcare professionals
through digital channels.
Veeva OpenData Email Data
Create a solid foundation for multichannel communications and connect healthcare professionals with content faster than ever before.
Benefits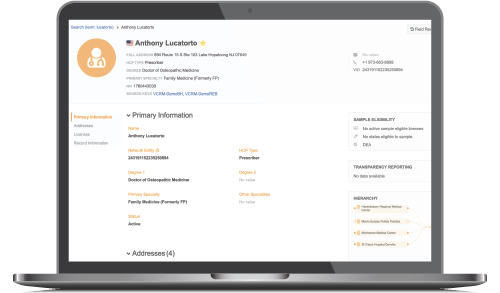 Improve Multichannel Campaigns
Access over 1 million validated email addresses for prescribers from trusted industry organizations.
Connect with More Providers
Engage with low-see and no-see physicians through email.
Enhance the Customer Experience
Send personalized, compliant email directly from Veeva CRM Approved Email without delay.
Verified Physician Email Addresses
Enrich your customer reference data for email addresses for multichannel communications.
Access 1+ million prescriber email addresses from trusted industry sources
See all subscriber types and specialties
Adhere to CAN-SPAM rules to maintain compliance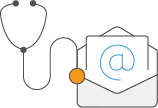 ---
Exceptional Deliverability
Rest assured that emails are getting delivered due to rigorous quality practices.
Get to the inbox with deliverability rates of nearly 100%
Rely on Veeva data stewards to continuously monitory and update email addresses
See data change requests processed within 24 hours

---
Fully Integrated with Veeva CRM
Enjoy the flexibility to access Veeva OpenData Email from your preferred platform.
Get instant access to current, accurate emails within Veeva CRM
Send personalized, compliant messages directly from Veeva CRM Approved Email
Use email addresses in conjunction with your own email service provider

---
Top 10 Pharma Company
"We're now able to deliver personalized interactions with high-quality
customer information using Veeva OpenData."
Head of US Enterprise Data Management, Top 10 Pharma Company
Learn more
Takeda
"Veeva OpenData emails are really helping our campaign management strategy,
allowing us to reach specific targets that previously weren't in our database."
Head of Decision Intelligence & Innovation, Takeda

"High quality, reliable data is readily accessible to our teams, available
where they need it most - right in Veeva CRM."
General Manager, FarmaForce Limited
Previous
Next
Extend Your Reach with Veeva OpenData Email
Resources for OpenData Email Data
Interested in learning more about how Veeva can help?