Vault Clinical Suite for CROs
Contract research organizations (CROs) are making significant advancements to modernize and speed clinical trials. Findings from recent research show CROs have taken decisive action to streamline trial execution by adopting new digital strategies and technologies that eliminate information silos, replace manual processes, and enable trial collaboration.
Vault Clinical Suite transforms clinical operations and clinical data management with the most comprehensive suite of clinical solutions, offering EDC, coding, data management, study start-up, eTMF, CTMS, and payments.

Strategic Partner
Deliver high-quality, differentiated
services to sponsors

Speed and Agility
Better meet aggressive
timeline demands

Efficiency
Reduce complexity and streamline
business processes
Veeva's connected Vault Clinical Suite enables companies to take a unified approach to
clinical operations and clinical data management.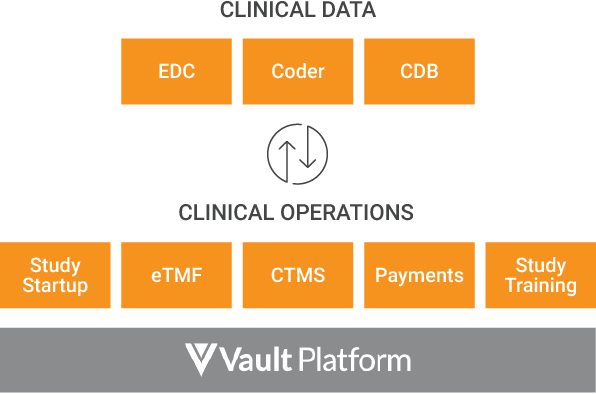 Benefits
The Vault Clinical Operations to CDMS Connection enables bi-directional data flows to:
Simplify monitoring
Track and plan recruitment more effectively
Pay sites faster
Centralize deviation management
Streamline reporting
Speed Study Start-up
Improving study start-up times requires a multi-pronged approach. Find the right sites, activate, and greenlight them faster with process automation. De-risk your timelines using Agile Design technologies and processes that speed study builds.
Productized Rules and Dynamics
Build studies quickly regardless of complexity
System-generated Documentation
Document everything that was built and what changed without lifting a finger
Built-in Global Intelligence
Easily manage regulatory complexities with country-specific start-up workflows
Configuration not Code
Define range checks, date comparisons, and progressive display with simple configurations
Data-driven Site Selection
Select quality sites based on historical performance, reducing downstream monitoring costs and burden
Start-up Homepage
Manage and prioritize critical tasks and milestones to keep study start-up on track
Be More Agile
Unified product suites, modern architectures, and a common technology platform make you more nimble and able to support growth with scalable operations. Respond quickly to sponsors' requests for advanced trial designs and frequent post-production changes.
Easy Updates Mid-study
Make amendments without data migrations or EDC downtime for sites
Near-zero Custom Functions
Replace burdensome custom functions with a powerful rules engine that's easy to use
Configurable Studies
Easily create new studies to accelerate engagements with sponsors
Increase Efficiency and Compliance
Vault Clinical Suite helps organizations go digital with their clinical processes and achieve a step change in productivity gains. Automating tasks removes manual steps, builds quality into your trials from the beginning, and increases compliance so you're always inspection-ready.
QuickView Filters
Finish SDV faster with QuickView filters that help CRAs focus on what matters most
Event-driven Automation
Milestone changes in study start-up and CTMS trigger automatic document filing in eTMF
Global Directory
Reuse master trial, site, and investigator data across studies to eliminate redundancy
Site Payments
Subject visits from EDC automatically trigger payable items, speeding payments
Monitoring
CRAs can view key study details at-a-glance and quickly author trip reports, saving time and money
Study Training
Streamline and automate training for sponsors, CROs, and research singes in a single platform.
Increase Transparency
Streamlining collaboration and information sharing with sponsors is a top priority for CROs looking to expand beyond tactical engagements. Providing timely, consistent information and visibility across studies helps build credibility and develop long-term strategic relationships.
Collaborative Design Reviews
Sponsors review the EDC system, not PDFs and spreadsheets, with many fixes made in real-time
Centralized Reports and Dashboards
Clients have real-time, self-serve access to reports that you've configured
Fortrea
"We had gaps in our manual processes and Veeva was the solution for us by eliminating barriers and reducing siloes, allowing us to work holistically within one system."
Sr. Director, Global Quality Control, Fortrea
Read More

Using the cutting-edge technology in Veeva's Clinical Data Management Suite assures high levels of quality, data transparency, and process efficiency for all types and sizes of clinical research projects. We anticipate rapid builds combined with seamless connections to our Veeva CTMS and Veeva eTMF systems!
Chief Technology Officer, KCR
Read More

Sponsors are looking for good technology solutions, and the fact that we use Vault Clinical Operations and can demonstrate metrics is a great benefit.
Chief Operating Officer, Linical Americas
Read More

The dashboards have saved me an enormous amount of time. I've configured my sponsor dashboards to show the exact same data I used to pull manually.
Data Manager
Read more

At Syneos Health, our focus has always been on running clinical trials in the most efficient and integrated manner, and with the highest quality processes and procedures. Our long-standing relationship with Veeva, combined with Veeva Vault CDMS, will allow us to accelerate our operational capabilities and work more collaboratively with our clients.
President, Clinical Solutions
Previous
Next
Resources for Vault Clinical Suite
How can Veeva help your organization?