Vault Clinical Suite
Vault Clinical Suite transforms clinical development with the most comprehensive suite of clinical solutions on a single cloud platform. Life sciences companies can increase visibility, streamline end-to-end processes, and improve how sponsors, CROs, and sites work together throughout the clinical trial.
Scale
For fast-growing biopharmas, Vault Clinical Suite provides a scalable platform that delivers continuous innovation with a sustainable cost of ownership. Best practices are built into Veeva's products, so smaller teams can establish efficient processes right from the start.
Simplify
Many large organizations have fragmented system landscapes and complex aging infrastructures that hinder progress for IT and study teams. Vault Clinical Suite simplifies the clinical landscape, delivers immediate efficiencies, and stays current with industry-leading innovations.

Automation
Help lean teams
do more with less

Efficiency
Reduce complexity and streamline
business processes

Speed and Agility
Adapt quickly
when you need to
Veeva's connected suites enable companies to take a unified approach to clinical operations and clinical data management.
The Vault Clinical Operations to CDMS Connection is a productized integration that Veeva builds and maintains to enable customers to seamlessly transmit data between Vault Clinical Operations and Vault CDMS. The systems transmit information in near real-time, creating and updating records automatically for sites, subjects, visits, procedures, protocol deviations, and more.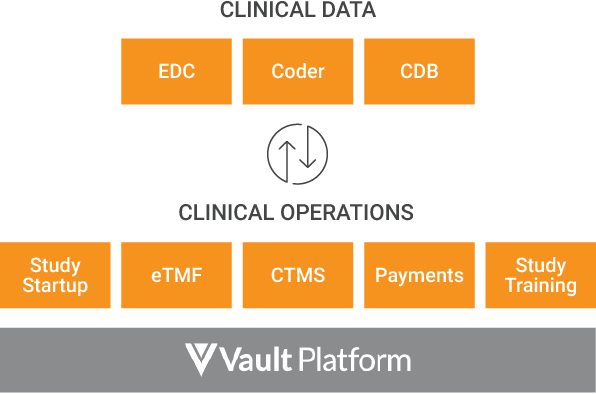 Benefits
Bi-directional data flows enable sponsors to:
Simplify monitoring
Track and plan recruitment more effectively
Pay sites faster
Centralize management of protocol deviations
Speed Study Start-up
Improving study start-up times requires a multi-pronged approach. Find the right sites, activate, and greenlight them faster with process automation. De-risk your timelines using Agile Design technologies and processes that speed study builds.
Productized Rules and Dynamics
Build studies quickly regardless of complexity
System-generated Documentation
Document everything that was built and what changed without lifting a finger
Built-in Global Intelligence
Easily manage regulatory complexities with country-specific start-up workflows
Configuration not Code
Define range checks, date comparisons, and progressive display with simple configurations
Data-driven Site Selection
Select quality sites based on historical performance, reducing downstream monitoring costs and burden
Start-up Homepage
Manage and prioritize critical tasks and milestones to keep study start-up on track
Be More Agile
Unified product suites, modern architectures, and a common technology platform make you more nimble and able to support growth with scalable operations. Respond quickly to any request for post-production changes.
Easy Updates Mid-study
Make amendments without data migrations or EDC downtime for sites
Near-zero Custom Functions
Replace burdensome custom functions with a powerful rules engine that's easy to use
Rapid Decision-making
Improve issue management and trial planning with a real-time view of trial status
Increase Efficiency and Compliance
Vault Clinical Suite helps organizations go digital with their clinical processes and achieve a step change in productivity gains. Automating tasks removes manual steps, builds quality into your trials from the beginning, and increases compliance so you're always inspection-ready.
QuickView Filters
Finish SDV faster with QuickView filters that help CRAs focus on what matters most
Event-driven Automation
Milestone changes in study start-up and CTMS trigger automatic document filing in eTMF
Global Directory
Reuse master trial, site, and investigator data across studies to eliminate redundancy
Site Payments
Subject visits from EDC automatically trigger payable items, speeding payments
Monitoring
CRAs can view key study details at-a-glance and quickly author trip reports, saving time and money
Study Training
Streamline and automate training for sponsors, CROs, and research singes in a single platform.
Increase Transparency
Streamlining collaboration and information sharing with CROs helps sponsors stay informed of a trial's progress. Sponsors maintain control of documents and data at every point throughout the trial lifecycle for better oversight and study quality.
Collaborative Design Reviews
Sponsors review the EDC system, not PDFs and spreadsheets, with many fixes made in real-time
Centralized Reports and Dashboards
Sponsors and CROs each have real-time, self-serve access to reports and data extracts
Lotus
"We are reducing overall study start times from three months to four-to-five weeks with the Veeva Vault Clinical Suite."
Vice President of Systems Integrations
Alcon
"Going digital is transforming the ways we work in Clinical and presents an enormous opportunity for Alcon."
Vice President and Head of Clinical Operations Functions
EQRX
"[Veeva's] modern development platform helps us align cross-functional business processes to deliver efficiency at scale."
Senior Director, Informatics
Watch the Summit presentation
Previous
Next
Alcon Goes Digital with Vault Clinical Suite
Resources for Vault Clinical Suite
How can Veeva help your organization?