Globalization
Global commercial expansion is forcing regulatory departments to make the necessary changes to keep pace.
Most of the growth in pharma sales is forecast to occur in countries outside of today's seven major markets.i The pharma-growth markets offer significantly less spend per patient, making it harder for sponsors to meet their profitability targets. These markets also introduce greater operating and regulatory complexity, which will typically slow a product's time to market. Regulatory processes that worked well when operating in a handful of markets are now straining to support a more global business. If speed-to-market drives corporate profits, then regulatory teams must do more to enhance their agility.
To prepare, regulatory leaders are planning significant changes to ensure their teams can move quickly and operate globally.
Pharma Sales Growth Forecast 2011–2020i
Dramatic growth opportunity in developing marketings where operating complexity is greater and margins are lower.
"Addressing R&D is only one part of maintaining profitability. The way in which viable molecules move through product development downstream of R&D will have a significant impact on cost, revenue, and margins. Inevitably, the investment in R&D will deliver a smaller return if downstream processes are not optimized." — Joe Shepley, Doculabs
IDMP
The Identification of Medicinal Products (IDMP) presents a massive data management challenge for global pharmas, making it a second major driver of transformational change for regulatory teams.
IDMP is part of a global trend in regulations requesting data commonly referred to as substance, product, organization, and referential (SPOR) data.ii To comply in an efficient manner, companies must do a better job mastering their SPOR data and many are embracing IDMP as the impetus to make the necessary changes.
SPOR data is generated from within safety, regulatory, manufacturing, and other departments. The variation in data definitions and terminology across these systems and across regions makes it extremely difficult to aggregate this data. While a challenge, IDMP also presents an opportunity. The process of establishing a consistent nomenclature, adopting coded values and controlled vocabularies, and identifying the authoritative source for each data point will naturally produce significant process improvements.
IDMP is compelling organizations to harmonize their data, and most regulatory teams are capitalizing on the opportunity to modernize their regulatory information management capabilities.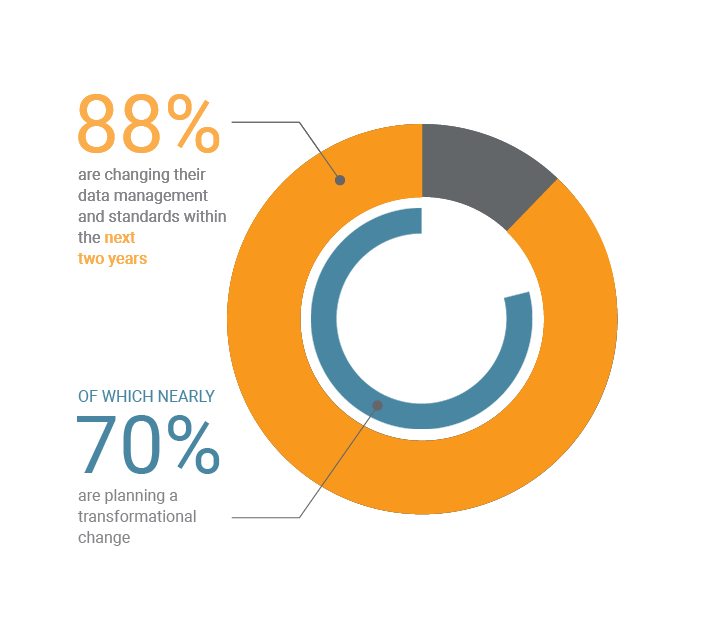 "Many companies completed their IDMP gap analysis and were alarmed by the size and complexity of the necessary IDMP compliance project. They are subsequently focused on how to keep all this mission critical data clean and updated over the long term." — Steve Gens, Gens & Associates
With a clear desire for greater efficiency, regulatory teams are now tackling their fragmented processes. Read next chapter