Personalize HCP Experiences with Veeva CRM Innovations
Oct 03, 2022 | Arno Sosna
Recent Veeva Pulse data show that 30% of HCP interactions worldwide occur digitally. As commercial and medical teams adapt to new hybrid approaches, they increasingly have to personalize HCP experiences across engagement channels. The latest Veeva CRM release introduced new innovations designed to help field teams achieve higher-quality HCP engagement. Here is just a snapshot of the new capabilities available now.
Make it easier to share content
Hybrid field models have expanded, increasing the volume of end users working on a PC and introducing the need for more robust content-sharing solutions. The Veeva CRM Desktop Experience, tailored for PC user groups, has two components: the Veeva CRM Desktop App, a dedicated companion app to access the Veeva CLM Media Library, and Veeva CRM Online, available from a browser. In this release, we've significantly improved content management and presentation workflows and made the Veeva CRM Desktop App available across more platforms.
Support the end-to-end content flow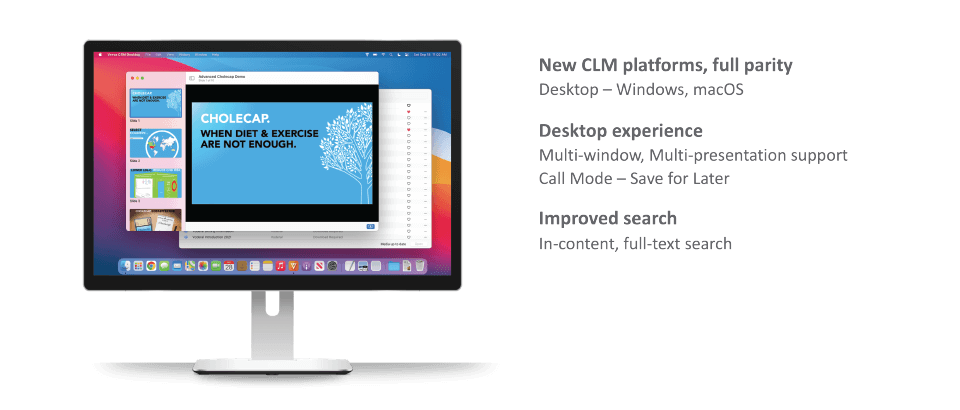 Mac users can now access media libraries and capabilities for content assembly, sharing, and presentation with the new Veeva CRM Desktop app for Mac.
Full-text search helps users find slides or presentations containing specific text in the media library. Field teams no longer have to remember a file name or search several individual presentations to find the needed content. This is particularly helpful for medical teams who must navigate large asset libraries to quickly find a piece of scientific evidence to answer questions from HCPs.

Easily assemble custom presentations

Users can now prepare multiple presentations and easily share content by toggling from one window to another.
They can also build custom decks from approved content with intuitive options, including the ability to copy presentations, pull slides in from the media library, and quickly delete and rearrange slides.
Medical teams can use drag-and-drop tools to more efficiently personalize content used for specific HCP interactions.

Make email channels easier to use

Approximately 1.5 million Veeva Approved Emails are sent weekly by commercial teams worldwide. Open rates remain at 40%, demonstrating personalized emails from a field rep, key account manager, or MSL perform better than mass marketing emails. This release includes significant user experience improvements to Veeva Approved Email, resulting in a more intuitive workflow commercial teams will deeply appreciate.

Centralize email capabilities

A new Email Tab has been added to Veeva CRM on iPad to act as a centralized location for users to access Veeva Approved Email functionality from the CRM menu. The Email Tab also includes folders for the draft, scheduled, and sent emails and a new option to reschedule undelivered emails.
With new email draft capabilities, users can start composing emails and finish them at a later time without losing their work.

Automatically publish approved content for emails

High email volumes increase the demand for email content. The new Auto-Publishing for Email Fragments feature makes it easier for content creators to manage content fragments. Simply checking a box makes Veeva Vault PromoMats and Vault Medcomms content available in Veeva Approved Email. This cross-product initiative significantly improves content preparations and distribution for the email channel.

Enable more interaction

As commercial teams rethink their engagement strategies and adapt to HCP preferences, new engagement models emerge, creating opportunities for field teams to serve HCPs better. Veeva's latest innovations in Veeva CRM Engage and CRM Stakeholder Navigator make it easier for field teams to reach the right people at the right time with the right content.

Share content in-person and over the phone

As in-person meetings increase, new content-sharing capabilities in Veeva Engage will help with social distancing. HCPs receive a link or scan a QR code from their field rep to view Veeva CLM content from their own device instead of the field rep's iPad.
When field reps are on the phone with an HCP, they can share a link or QR code to view content together without requiring the HCP to sign on to a video call.

Simplify scheduling

Easily manage scheduling requests from HCPs through Veeva Engage Integrated Scheduling with a new option to accept or decline meetings from My Schedule in Veeva CRM. When field reps accept the meeting request, a planned call report streamlines the scheduling process further.
In addition to working with Engage, this capability can support third-party scheduling solutions you may use today.

Navigate complex account relationships

Use the Stakeholder Navigator to help commercial teams traverse complex account hierarchies. Users can visualize relationships and affiliations between the people working in account hierarchies. We listened to your feedback and delivered the highly requested ability to make these visualizations interactive. That means you can create and edit affiliations directly within Stakeholder Navigator.

These are just some of the latest Veeva CRM 22R2 Major Release features. Stay current on the latest innovations Veeva CRM offers and sign up to receive release updates.
Interested in learning more about how Veeva can help?