Veeva Heroes Recognized for Transforming Drug Development Processes
Dec 07, 2017 | Roger Villareal
Veeva customers continue to push the industry forward with initiatives to streamline product development in clinical, quality, and regulatory. Recently at the Veeva Global R&D Summit, we recognized five trailblazers that are transforming product development processes.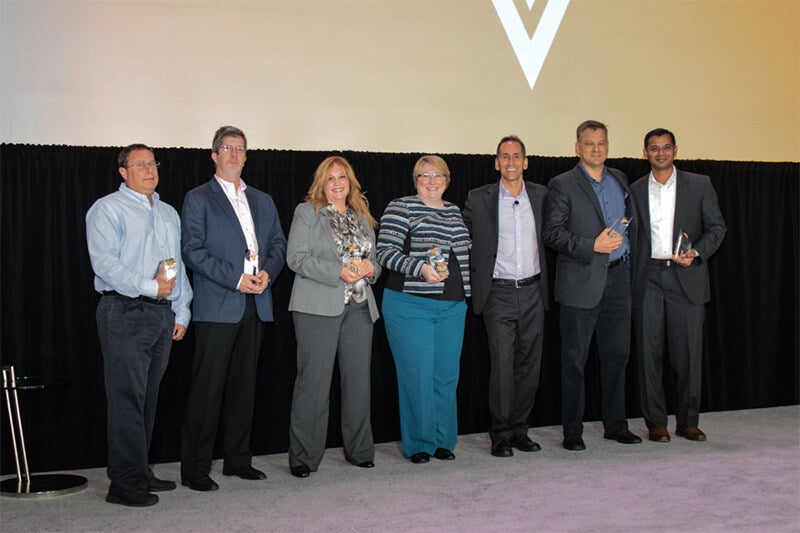 Danielle Beaulieu, Bristol-Myers Squibb
Danielle is at the forefront of BMS's RIM transformation program to simplify global submissions and tracking globally. She is leading the implementation of Veeva Vault Registrations and Veeva Vault Submissions Archive to unite headquarters and local affiliates on a single platform for submission planning and tracking, product registration information, regulatory correspondence, HA commitments, HA queries, and archived submissions. She has also been a resource to the industry, sharing best practices with her peers to help advance their regulatory transformation initiatives.
Patrick Fredericksen, TESARO
Patrick played an instrumental role in helping Tesaro streamline regulatory, quality, and clinical processes on one platform to drive greater business efficiency. By implementing Vault Development Cloud applications, including Vault eTMF,  Veeva Vault QMS, and Vault Submissions, Tesaro centralized content and data management across the company, delivering a unified source of truth for regulatory and clinical information to speed drug development.
Ed Leftin, Ora Inc.
Ed and the leadership team at Ora had the vision to modernize clinical operations by moving to a unified clinical model. As pioneers, they implemented Veeva Vault Clinical Suite to bring together eTMF, study start-up, and CTMS on one platform. Ed helped streamline clinical processes to speed execution, improve study quality, and gain visibility across the trial lifecycle.
Jamie Toth, Daiichi Sankyo
Jamie is committed to transforming clinical operations and how Daiichi Sankyo manages eTMF globally. Jamie led the implementation of Vault eTMF to 1,600 users across the globe, including internal teams and external partners to standardize business processes and improve collaboration. After the successful implementation, other business groups rolled out Veeva Vault QualityDocs, Vault Submissions, and Vault Submission Archive. Daiichi Sankyo is now driving greater consistency globally at every stage of product development, from clinical to quality to regulatory.
Praveen Vangeti, Gilead
Gilead modernized quality in the cloud to enable a comprehensive audit trail and improve data integrity between the company and its many partners. Praveen's pragmatic and methodical approach contributed to the successful rollout of Vault QualityDocs across both internal and external stakeholders. Now it is easier for external partners, such as contract manufacturers and contract test labs, to submit content directly to Gilead securely and efficiently as well as participate in review and acceptance workflows with a comprehensive audit trail. Based on the success, Gilead is expanding Vault QualityDocs across the entire global enterprise to manage all standard operating procedures.
Register now for 2018 Veeva R&D Summit, North America.