Veeva Crossix Segments
Reach high-quality health audiences in a privacy-safe way, in compliance with HIPAA and NAI guidelines. Our solutions help leading pharma, OTC and CPG brands, hospitals systems, and government agencies ensure that their digital and targeted TV campaigns reach the right health audiences, at scale.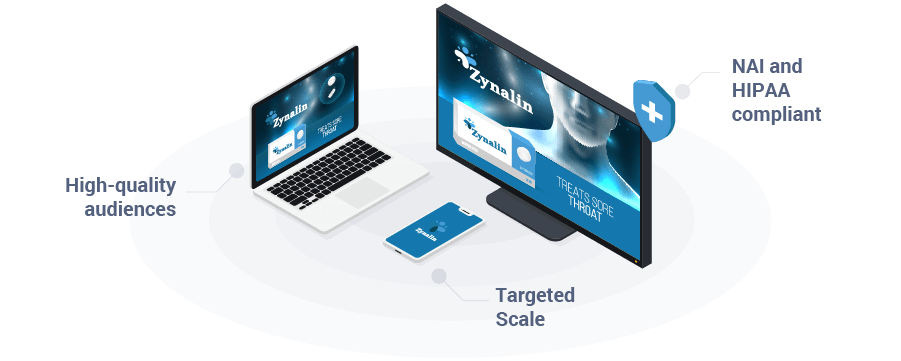 How Crossix Segments Work
Veeva uses an "enhanced demographic" approach for targeted health marketing.

Develop Audience Model
Using consumer variables, propensity
models determine the likelihood an
individual will be in a desired audience.

Segment Audience Population
Based only on those consumer
attributes, the population is divided
into 10 equal parts, or deciles.

Target Top Deciles
Our partners activate the top deciles
premium publishers.
across leading programmatic and
Audience Targeting Example
Government entities use Crossix Segments to advertise opioid treatment programs.
To reach those most likely to need those services, they leverage an enhanced demographic model based on:

Shopping
Behavior

County-level
Geography

Home
Ownership

Vehicle
Ownership

Hobbies
Activating the top deciles, the campaign targets the US adults most likely to need those services.
Industry Insights
Privacy-safe audience targeting is a key component of any media plan.
Learn more about how today's health marketing news will impact your business.
Targeting Approaches to Avoid
There are questionable targeting approaches in the marketplace that may not adequately protect the privacy of consumers.

Zip+4 Geo-targeting
Geo-targeting an individual based on actual healthcare data. Some approaches use zip+4 targeting which may include as few as 3-4 households.

Targeting based on healthcare data
Segments containing individuals based on their actual healthcare data, with added data noise to "anonymize" the targeting.
Both approaches use medical records to target an individual and a small group of other people around that individual. Any use of actual healthcare data, even if for one person, is prohibited by the 2020 NAI Code of Conduct, and violates an individual's reasonable expectation that healthcare data will not be used to target advertising to them.
We encourage all marketers to take a privacy-first approach when evaluating potential partners.
Interested in learning more about how Veeva Crossix can move your business forward?