Speed Clinical Trials with a Modern CTMS
Jun 18, 2019 | Henry Galio
With 72% of studies running more than one month behind schedule and 37% failing to meet enrollment targets, legacy CTMS systems are failing to meet their primary goal – to optimize clinical trial performance.
In a recent industry-wide survey, clinical operations leaders confirmed that legacy CTMS applications limit operational efficiency. They often can't support a range of key functions, including study performance, metrics and reporting, monitoring, and issue and task management.
To speed trial execution, improve decision making, and streamline clinical operations, many life sciences companies are moving toward modern, cloud-based CTMS applications.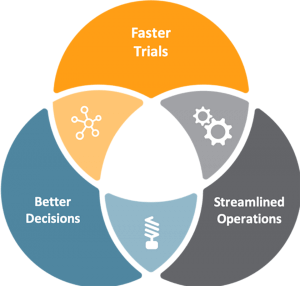 Enable Faster Trials
A modern CTMS provides an easy-to-use, intuitive experience across all clinical operations processes to boost productivity and speed study execution. Role-based dashboards provide real-time, actionable insights, and enable users to take action at the point of decision without logging in and out of multiple systems.
Make Better, More Informed Decisions
Effective trial management requires getting a complete and accurate view of study milestones and activities. A modern CTMS provides just that. It enables study teams to:
Assess progress against goals on activities such as patient enrollment
Identify and shut down low-enrolling and no-enrolling sites
Proactively identify bottlenecks, and take corrective action to restore momentum
Enable compliance through oversight reporting and dashboards
Streamline Clinical Operations
A modern CTMS does not rely on custom integrations. Instead, it unifies clinical applications on a single cloud platform for greater efficiency and seamless exchange of trial data across CTMS, eTMF, and study start-up processes.
Unifying all clinical operations processes breaks down data silos and provides end-to-end visibility into trial activities from study planning to closure.
Learn More
Watch the on-demand webinar "Speed Clinical Trial from Start to Close" to get a deeper dive into the attributes and benefits of a modern CTMS.