Veeva Crossix DIFA HCP
Link HCP marketing to actual prescription sales and patient treatment data.
Benefits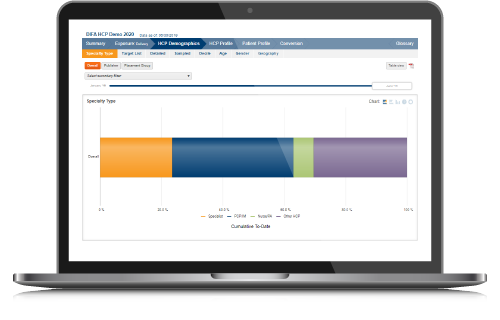 Objective, Third-party Measurement of Ad Campaigns
Go beyond partner-dependent, list-based measurement, which provides a limited view of campaign performance.
Optimize HCP Advertising Campaigns
Make more informed optimization decisions, based on health data, to maximize the ROI of non personal promotion.
Understand HCPs and Their Patients
Get a unified view of HCPs reached—by specialty, target list match, and decile—along with the health profiles of the patients they treat.
Connect NPP With Field Force Activity
Veeva CRM data is integrated into DIFA HCP marketing analytics for a comprehensive view of HCP digital engagement.
DIFA HCP is a cloud-based platform specifically designed to validate that your digital display, mobile, and video campaigns are reaching the right HCPs. Our solution connects HCP digital advertising campaigns to brand impact so you can link marketing campaigns to actual prescription sales and patient treatment data.
Butler Till
"We are always looking for deeper metrics that allow us to optimize our marketing and site development. DIFA HCP Site not only allows us to answer those questions on a single platform, the data is updated monthly allowing us to adjust our promotional plans."
Digital Media Strategist, Butler Till
HCP Site Measurement and Optimization
Gain a deeper understanding of HCP website visitors and the impact on patient health outcomes.
Benefits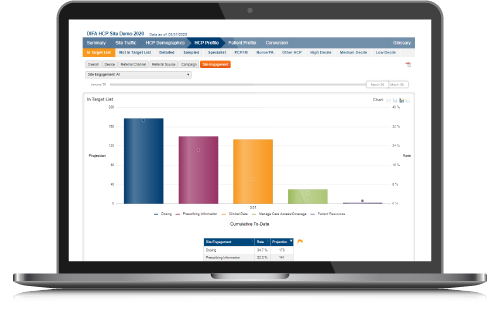 Go Beyond Standard Site Metrics
Measure the impact of site visitation on HCP prescribing behavior.
Optimize HCP Engagement
Optimize referral traffic and site content for maximum engagement and ROI.
Understand Your HCP Website Audience
Get a more comprehensive view of the quality of your site visitors, including specialty and decile.
Surpassing traditional HCP website measurement, DIFA HCP Site tracks aggregate-level data on all HCPs visiting a brand-HCP website, then links to their patients' health history to generate deeper insights on the HCP site visitor quality. With our always-on platform, you can optimize referral traffic to ensure the highest return on investment for your HCP digital campaigns.
Crossix Technology was Purpose-built to Protect Privacy
Discover how a distributed analytics approach exceeds HIPAA requirements while delivering actionable insights for health brands.
Discover now
Resources for HCP Marketing Measurement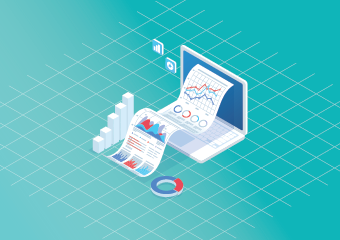 Case Study
Quantifying the Impact of Digital Healthcare Professional Media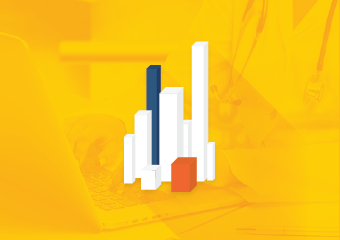 Blog
Doctors Are Consumers Too! How DTC Media Impacts HCPs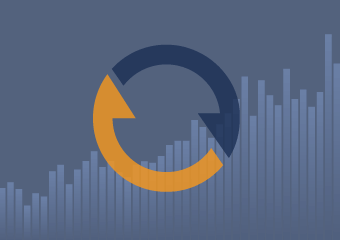 Press Release
Veeva CRM Now Integrated with Crossix DIFA Marketing Analytics