Veeva Crossix DIFA
Move beyond traditional metrics, like clicks and brand site visits, to understand the true impact of digital campaigns on patient behavior.
Benefits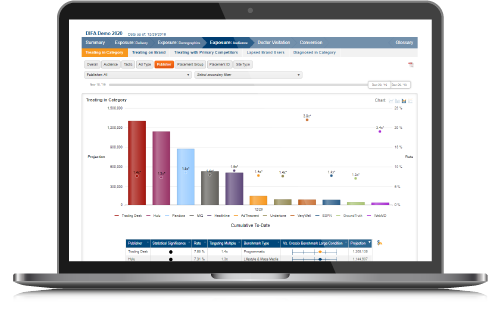 Reach More Target Patients
Understand if your campaign is reaching the right audience and driving desired health behaviors.
Make Timely Optimization Decisions
Optimize campaigns earlier and more effectively, both across and within publishers, with weekly data updates.
Validate Marketing Investments
Connect digital campaign spending to business impact and ROI.
The Leader in Digital Measurement
Klick Health
"Clients want deeper insights to better understand how and where to allocate their site and search investments. This solution makes it much easier to make informed, data-driven decisions with more confidence than ever before."
EVP Marketing Strategy and Activation, Klick Health
InTouch Solutions
"These are exactly the types of metrics that help me to optimize my campaigns. And it's even better that I can access them online more quickly. The expanded insights this data brings will translate to increased client value."
VP, Media Services, InTouch Solutions
Previous
Next
DIFA Site
Understand the types of patients that visit your websites and the health actions they take after they leave.
Benefits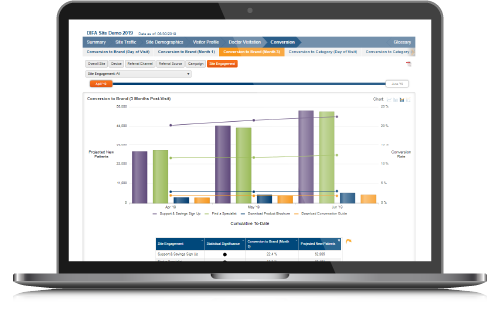 Improve Audience Quality
Compare the relative performance of media drivers, including social and search.
Optimize Site Content
Make decisions about brand.com site content using actual treatment data and post-visit behavior.
Connect Search Campaigns to Health Data
Optimize paid search campaigns by understanding the profile of audiences based on treatment, diagnosis and clinical data.
Crossix Technology was Purpose-built to Protect Privacy
Discover how a distributed analytics approach exceeds HIPAA requirements while delivering actionable insights for health brands.
Discover now